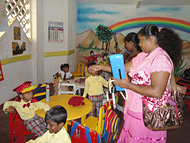 On December 26, 2004, many countries on Indian Ocean were suffered from a great disaster. The earthquake, which registered 9.0 on the Richter scale, occurred on the western offshore of Sumatran Island of Indonesia, and it was followed by a massive tsunami.
Japan National Council of Social Welfare (JNCSW), a leading member of JNC/ICSW started its support program soon after the disaster. Based on the fund donated by many Japanese people working in the social welfare field, and collaborating with NGOs working in damaged areas in Indonesia, Thailand and Sri Lanka, JNCSW provided a sustainable support towards the rehabilitation and revival of life of victims in these areas.
At the very end of this program, JNCSW dispatched an inspection group to those three countries, and staff members of JNC/ICSW joined it to keep a record of results of 5-year activities focusing on people's daily life.
To share the information with you, a video (WMV: 24 minutes, 261MB, a compressed file) was made. To see the video, please click here.