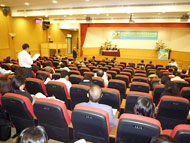 ICSW North East Asia (NEA) Regional Conference, hosted by ICSW Taiwan, was held from October 19 to 21 in Taipei, Taiwan.
46 delegates from Taiwan, Korea, Hong Kong and Japan participated in this conference. From Japan, Ms. Ritsuko Nagao, President of JNC/ICSW and 15 other participants flew to Taipei to join the conference. It was held combined with the 14th Japan-Korea-Taiwan Conference of Non-Governmental Social Welfare Organizations (Tri-Lateral Conference) which was started in 1996 and held annually.
Morning session of the seminar on the 2nd day was held as the Tri-Lateral Conference under the theme of "the Social Welfare Policy Issue of Long-Term Care Insurance," and afternoon session was held as the ICSW NEA Regional Conference under the theme of "Social Welfare Predicament and Countermeasure under Financial Tsunami."
On the 3rd day, field visit to social welfare institutions for the disabled and the aged in Keelung City was conducted.
Through the whole 3-day program, the information exchange was promoted, and relationship and friendship of all the participants were strengthened and deepened.